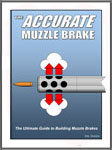 Newlon Precision
The Accurate Muzzle Brake Book
Regular price
$29.95
$0.00
This is a illustrated guide book on how to build muzzle brakes. 2nd Edition.

Chapters include: How Muzzle Brakes Work, Muzzle Brake Design (Hole Patterns & Hole Diameters, Exit Hole), Accuracy (Crowning the Muzzle Brake, Muzzle Brake Steel, Indexing the Brake, Job Set-Up, Crown Savers), Building the Brake (Tooling Set-up, Threading the Brake, Tapping on Center, Milling and Drilling, Hole Patterns),
Threading the Barrel (Turning the Thread Diameter, Set-Up for Threading, Calculating Angular Depth, Thread Inserts, Thread Fit and Classification, External/Internal Thread Dimensions), Muzzle Brake Accessories. 8-1/2 X 11 Format, 67 Pages. 
---
More from this collection